The Bayat Foundation, Afghanistan's largest, private, non-profit Health, Education and Social Development Organization, announced today, that the Foundation's April 21st "Nourish So They May Flourish," Fundraising Gala, held at Jacksonville's Ponte Vedra Inn and Club, raised a record amount of funds in support of the Bayat Foundation's Healthcare, Education and Community Development Programs in Afghanistan.
The funds raised at the April 21st celebration will be harnessed to help build The Bayat Maternity and Surgical Hospital, a landmark Women's Health and Cancer Treatment facility. The new hospital will be located in Kabul, Afghanistan.
Numerous global philanthropic organizations, including the Starkey Hearing Foundation, Matter, The Ramin Family, Goldman Sachs, Holland & Knight, Stern & Kilcullen, and compassionate personal donors, provided essential support for the Gala, the construction of the Bayat Maternity and Surgical Hospital and the continuation of the Foundation's Health, Education, Emergency Aid and Community Development efforts in Afghanistan.
Featuring entertainment from nationally renown comedian Jim Florentine (VH1's That Heavy Metal Show, Jimmy Kimmel) and also traditional Afghan Music performed by The Sakhi Band, the "Nourish So They May Flourish," Gala, celebrated the Bayat Foundation's progress in improving the Health, Literacy and Development of Afghan Families. The Gala also honored the tremendous contributions made by the Bayat Foundation's partners, which have been critical to the success of The Bayat Foundation's efforts in Afghanistan.
The Bayat Foundation presented awards to the following people and organizations, in recognition of their service and contributions to the Afghan people:
Bill and Tani Austin: The Starkey Hearing Foundation
Mary Baumgarten: Impact Lives
Dennis and Meagan Doyle: Matter
Dr. Stephen Smith and Family: The Smith Infectious Disease Foundation
General John Bradley and Jan Bradley: The Afghan Lamia Foundation
"Raising funds for the new Maternity and Surgical Hospital is an important step forward in our mission to help every Afghan enjoy good health, and pursue the opportunity to build a promising life," said Dr. Ehsanollah Bayat, Co-Founder of The Bayat Foundation. "We're grateful to everyone who attended the Gala—and we're grateful to our supporters throughout the world—for their unshakable commitment to help Afghans prosper."
"The success of our Gala shows that helping Afghans is a mission with a special place in the hearts and minds of many people," said Mrs. Fatema Bayat, President and Co-Founder of The Bayat Foundation. "Our Foundation feeds and clothes, educates and provides medical treatment to millions of Afghans. And thanks to the generosity of many individuals, and our partners, our work to nourish Afghans, so they can flourish, will continue to move forward."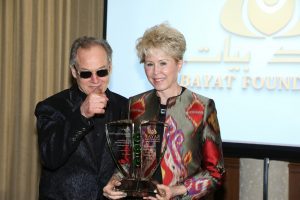 Dennis and Megan Doyle, founders of Matter